---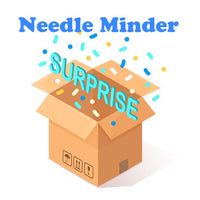 This listing is for TWO super fun mystery needle minders! Could be cute, could be creepy, could be mildly offensive! Who knows? It's A TOTAL SURPRISE!
You will receive two high-quality needle minder that will be chosen at random from my stash of fun! 
Who doesn't love a good surprise?!
To use, simply slide the two magnets apart, place the top of your minder on the front of your project and place the second magnet underneath your project. No need to stab your fabric or loose your favorite needle ever again!
You can also use your minder to hold your pattern to your fabric or even as an everyday fridge magnet between your projects.
***These magnets are very strong and are a choking hazard. Please be sure to keep them away from pets, children and any electronics.***
Have fun stitching in style! :)